Volunteers come from all walks of life and backgrounds, with a variety of interests and talents. If you have a special area of expertise, maybe it's just what we need. The Habitat volunteer doesn't always wear a hard hat. If construction is not your bag, there are many other ways to get involved and support the mission of Habitat for Humanity.
volunteer opportunities
ReStore (Habitat's Thrift Store)
Sales Assistant
Interact with customers assisting them with selections and carry-out. Help with keeping the sales floor well maintained and stocked.
ReStore Donation/Production
Help us receive, sort and store donated furniture, household goods, clothing & accessories and DIY materials.
Housekeeping
Light housekeeping for the ReStore and offices. Help maintain a clean sanitary facility for customers, staff, and fellow volunteers.
Construction
A Brush with Kindness (ABWK) Crew Member
Join our roving band of fixer-uppers as we help elderly and disabled homeowners with their exterior maintenance projects such as painting, yard clean-up and landscaping. We provide the tools and you provide the time.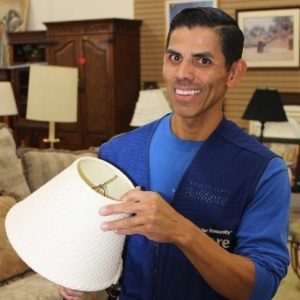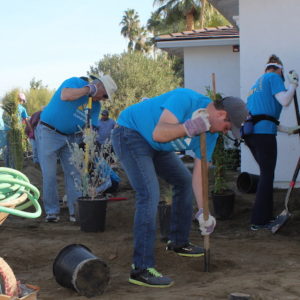 For current information on volunteer opportunities including job descriptions, contact Volunteer@hfhcv.org or call 760-969-6917 x 102.
Hours for Volunteering
ReStore
Monday – Saturday 9:00am – 6:00pm
Closed Sunday
A Brush with Kindness Home Repair
The schedule varies but ABWK projects are usually scheduled Saturday mornings during cool weather.
Stop by and meet us
Directions
We are located at Monterey & Dinah Shore in Palm Desert. From Monterey, turn west onto Dinah Shore, then right into the Costco Shopping Center complex. Turn left at the third driveway and look for the Habitat for Humanity of the Coachella Valley sign on the building.
Hours
ReStore
Monday – Friday, 9:00am – 6:00pm
Saturday 9:00am – 6:00pm
Closed Sunday
Administration
Monday – Friday, 9:00am – 4:30pm