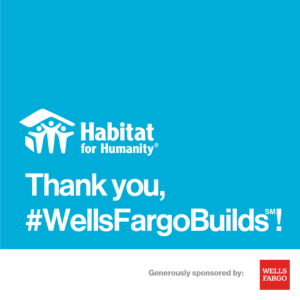 Thanks to a generous grant from the Wells Fargo Builds program, Habitat for Humanity has been able to help two elderly, retired women with much-needed repairs.
The first elderly homeowner was unable to renew her homeowner's insurance due to her roof being in serious disrepair. We were able to completely replace the sheeting and roofing thanks to the collaboration with Wells Fargo.
The second homeowner, despite being on a fixed income, volunteers her time to teach young children at a local community center. Over the past year, Habitat CV had assisted her with safety and health issues such as installing security deadbolts and providing a new refrigerator. However, the most important repair still pending was a decayed and leaking roof. Thanks to Wells Fargo, her roof is scheduled to be replaced.
Wells Fargo Builds is part of the Wells Fargo Foundation's $1 billion philanthropic commitment to create more housing affordability solutions by 2025.